G Suite for Education (formerly called Google Apps for Education) provides all of Google's core offerings to schools.  Products like Google Forms, Google Drive, and Google Sheets typically used for personal and business use are available to schools.  It also includes a whole lot more custom tools built specifically for schools.  Google Forms, for instance, are great for sending out student surveys and even online assessments.  Some schools and districts use Google Forms for their bully and incident reporting forms.  While Google Forms might seem like a good option here we have actually found several significant pitfalls.  We would like for you to consider them as you evaluate your reporting process.  Granted, Google Forms are a step in the right direction toward online, electronic reporting.  It's more convenient and anonymous than strictly paper, email, or in-person reporting.  For many schools, Google Forms are flexible enough to cover a broad number of uses including bully and incident reporting.  Here's why you might want to re-think that.
There's a high risk of mis-configuring Google Forms
Ever tried to access a Google Doc or Google Form only to see you don't have the right permission to access the item?  The many different permission levels provided by Google are great for protection and security.  However, they're dangerous for forms that need to be accessible 24/7 no matter what.  Incident reporting forms should be publicly accessible so students and parents can report incidents whether they're logged into Google or not.  Imagine someone trying to report an incident only to come across the "You need permission" screen.
Ouch.  Not a great experience for your school community.
Sadly we have seen several school websites link to bullying reporting forms that do link to such a screen.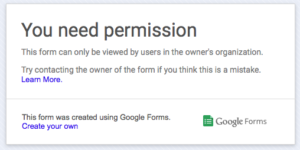 Even if your Google Form is working when you first roll it out, you can't be certain that those permissions won't change in the future.  Your Google admin, for instance, might do a security audit and restrict permissions to publicly available files.  Your public reporting form could then become inaccessible and your students and parents wouldn't be able to report until you correct the permissions issue.
There's no built-in resolution workflow in Google Forms
What happens after an incident is reported is one of the most important parts of the process.  The correct staff should be notified and steps should be taken according to school or district policy.  While it would be possible to send out email alerts when a Google Form is submitted, the resolution process would be difficult to manage.  Who's assigned to the ticket?  What's the deadline to respond and investigate?  Can they be notified when the status of the incident changes? What was the final resolution of the incident?  Or must an intervention plan be formulated and performed?
These actions and functions are all important parts of the process that might be too much for a Google Form to bear.  This is where purpose-built solutions like BRIM geared exactly towards this kind of process  shine bright.  Tools like BRIM have structure around common processes yet plenty of configuration options to suit your school's unique terminology and processes.
You'll wind up with disorganized data
Google Forms and Google Sheets might work when you first start your anti-bullying campaign and online reporting.  But as you expand your program, involving different stakeholders in the process, things change – you might want to start assigning tickets to certain people or add email notifications and reminders.  Before you know it, your spreadsheets can't keep up.
Because Google Sheets isn't a central hub for all of your bully reporting and tracking, you may start requiring multiple spreadsheets per school.  Adding and changing data in multiple places to get district-level reporting would be a big feat even for an Excel-guru.  Not to mention the chance of omitting a row of data with one of those complicated formulas.
Google Forms has some great classroom uses but when it comes to something as important as bully and incident reporting and tracking, it doesn't make the top of our list.
Stick with purpose-built solutions
Instead of using Google Forms, we recommend purpose-built solutions that will provide you with the functionality you need and support to help you along the way.  Bullying and school safety are important enough that they deserve close attention and diligence.  In working with a purpose-built solution, you'll have a team of people supporting your anti-bullying efforts from prevention through to reporting.  These teams make it their top priority to build excellent products and provide support for them.  Their focus on bullying prevention is all to your benefit.
You can focus on building better schools while they handle the back-end work for you.  BRIM provides a purpose-built solution for bully reporting and follow-up on reported incidents.  And in many cases the support that comes along with BRIM is just as valuable.  From technical support through to help in implementing an anti-bullying campaign at your school BRIM has you covered.